I feel like like a cyclist again!
So with the King Ridge Granfondo a month away, I went to camp for 10 days and didn't ride. Prior to being away I was getting pretty strong. But with little more than indulging on buffets and too much beer, my first rides after camp was like I was riding in a sumo wrestler suit. I gained 6lb and it took more than few rides to shed the pounds and gain some form back.
Fast forward to today. My dad brought a couple of deep dish carbon wheelsets back from China and I finally put wheels together today. Man, these wheels are the steroid-like injection I needed to improve my game. They are so noticeably faster that I set personal bests on 4 out of 5 hills on my training route! These wheels are the single best upgrade to my cycling that I can think of.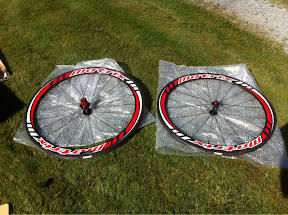 —-WAB1234—-
– Posted using BlogPress from my iPhone